How to Make Your LED Neon Sign Last Longer
LED neon signs are not only eye-catching and vibrant but also a significant investment for your business or personal space. To ensure that your LED neon sign continues to shine brightly for years to come, it's essential to understand its lifespan characteristics and implement proper maintenance and care practices. In this guide, we will explore the key factors that affect the longevity of LED neon signs and provide practical tips to extend their lifespan, as well as techniques to enhance their durability and safety. Let's dive in!
Understanding LED Neon Sign Lifespan
LED technology has revolutionized the world of signage, offering energy efficiency and long-lasting performance. LED neon light signs are designed to have a significantly longer lifespan compared to traditional neon signs. The average lifespan of an LED neon sign can range from 50,000 to 100,000 hours, depending on various factors.
Factors that can affect the lifespan of LED neon signs include:
Quality of Materials and Components:
The quality of the LED modules, power supplies, and other components used in the sign's construction plays a crucial role in its longevity. Investing in high-quality materials ensures better performance and durability.
Environmental Conditions and Proper Installation:
LED neon signs should be installed in suitable environments, away from excessive heat, moisture, and direct sunlight. Proper installation techniques, including correct wiring and secure mounting, contribute to the sign's overall lifespan.
Usage Patterns and Maintenance:
The frequency and duration of usage can impact the lifespan of LED neon signs. Signs that are continuously left on for extended periods may experience faster wear. Regular maintenance, such as cleaning and inspections, helps identify issues early on and ensures optimal performance.
Tips for Extending the Lifespan of Your LED Neon Sign
A. Selecting a High-Quality LED Neon Sign:
Prioritize quality when purchasing an LED neon sign. Research reputable manufacturers and suppliers known for using top-grade materials and components.
B. Proper Installation and Placement Considerations:
Follow the manufacturer's installation guidelines to ensure a proper and secure installation. Consider factors such as ambient temperature, moisture levels, and protection against physical damage.
C. Regular Cleaning and Maintenance Practices:
Clean the sign regularly using a soft, lint-free cloth and mild cleaning solution. Avoid using harsh chemicals or abrasive materials that may damage the sign's surface. Inspect the sign for any loose connections or signs of wear.
D. Protecting the Sign from Extreme Weather Conditions:
If your LED neon sign is placed outdoors, protect it from extreme weather conditions. Consider using weather-resistant enclosures or covers to shield the sign from direct exposure to rain, snow, or intense sunlight.
E. Avoiding Overuse and Managing Power Consumption:
Limit the sign's usage to necessary hours, avoiding unnecessary continuous operation. Utilize timers or dimmers to control the sign's brightness and power consumption during non-operational hours.
Maintaining and Repairing Your LED Neon Sign
A. Understanding Common Issues and Troubleshooting Techniques:
Familiarize yourself with common issues such as flickering lights, dimness, or color irregularities. Troubleshoot these issues by checking connections, power supply, or contacting the manufacturer for assistance.
B. Replacing Damaged or Malfunctioning LED Modules:
LED modules are the core components of the neon sign. If any modules are damaged or malfunctioning, they should be replaced promptly to maintain optimal performance. Contact the manufacturer or a professional technician for module replacement.
C. Seeking Professional Assistance for Complex Repairs:
For complex issues or repairs beyond your expertise, it's best to seek professional assistance. Certified technicians have the knowledge and skills to diagnose and repair intricate problems while ensuring the sign's safety.
Enhancing LED Neon Sign Longevity with Upgrades and Accessories
To further enhance the longevity of your LED neon sign and protect it from potential damage, consider the following upgrades and accessories:
A. Upgrading to Energy-Efficient LED Modules:
As technology advances, more energy-efficient LED modules become available. Upgrading to these modules can reduce power consumption and prolong the overall lifespan of your sign.
B. Installing Protective Coatings or Enclosures:
To shield your LED neon sign from environmental elements, consider applying a protective coating or installing an enclosure. These additional layers of protection can help prevent moisture, dust, and physical damage.
C. Adding Voltage Surge Protectors or Stabilizers:
Voltage spikes can potentially damage the electrical components of your LED neon sign. Installing surge protectors or stabilizers can safeguard the sign against sudden voltage fluctuations, ensuring its longevity.
D. Incorporating Timers or Dimmers for Controlled Usage:
Timers and dimmers provide control over the operational hours and brightness levels of your LED neon sign. By using these features, you can reduce excessive usage and manage power consumption effectively.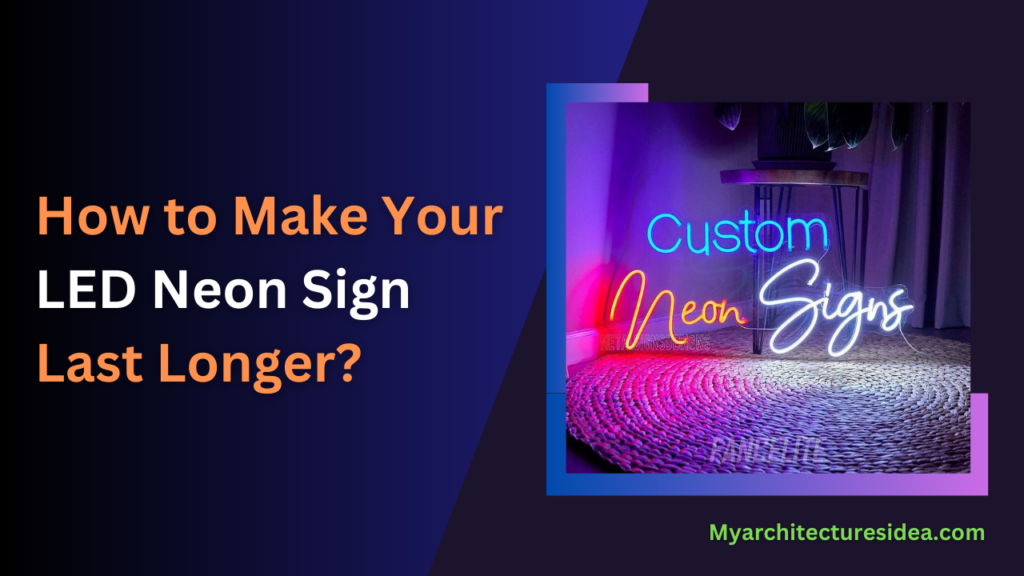 Promoting Safe Usage and Handling of LED Neon Signs
To ensure the safety of your LED neon sign and everyone around it, it's crucial to follow proper usage and handling practices:
A. Adhering to Manufacturer Guidelines and Safety Instructions:
Read and understand the manufacturer's guidelines and safety instructions provided with your LED neon sign. These instructions will cover important aspects such as installation, usage, and maintenance.
B. Handling the Sign with Care During Installation and Maintenance:
When installing or maintaining your LED neon sign, handle it with care. Avoid applying excessive force or bending the sign, as this can damage the delicate components and affect its functionality.
C. Understanding Proper Disposal Methods for Old or Damaged Signs:
If you need to dispose of an old or damaged LED neon sign, ensure that you follow proper disposal methods. Contact your local waste management authority or recycling centers for guidance on responsible disposal.
Conclusion
LED neon signs offer a visually stunning and durable signage solution for various applications. By understanding the lifespan characteristics of LED technology and implementing proper maintenance practices, you can ensure that your LED neon sign lasts longer and retains its brilliance over time. Remember to select a high-quality sign, follow installation guidelines, perform regular maintenance, and protect the sign from environmental factors. Additionally, consider upgrades, accessories, and safe usage practices to further enhance its longevity. With proper care, your LED neon sign will continue to shine brightly, creating a captivating ambiance for years to come. Keep on Visiting My Architecture's Idea for more decor tips.