11.29 Art Studio in Thailand Made From Bamboo Battens and Discarded Concrete Spacers
Yes, you heard it right!! In its designs from Furnish Studio, 11.29 Studio prioritises sustainable design and the use of local materials, eschewing concrete. This oil painting art studio in Rayong, Thailand takes place above ground, surrounded by a serene environment within the artist's area, which also opens out to a large pond behind it.
11.29 STUDIO gets a NEW LIFE with Discarded Materials
The construction of the building is designed to create a quiet, creative work space for artists working with oil paint. Adequate ventilation is required to protect the health of the performers due to the continuous evaporation of the medium by the oil pant. To solve this, the studio wrapped the facade in bamboo batten walls as a design element that roots the structure and also enables ample air circulation.
FIRM – 11.29
YEAR – 2023
SIZE – 1000 to 3000 sqft
BUDGET – $1M – 5M
Location: Rayong, Thailand
This studio is rooted in its natural context, with the entry wall shaped by a sequence of concrete spacers to welcome the visitors. Meanwhile, bunches of bamboo slats form flexible shutters along the facade, allowing refreshing ventilation inside.
Flexible Bamboo Screens
Bangkok-based 11.29Studio gets its basic designs from the project's location. Drawing on the natural environment and industrial status of the area, the design team used sustainable materials to reduce embodied emissions from transportation energy.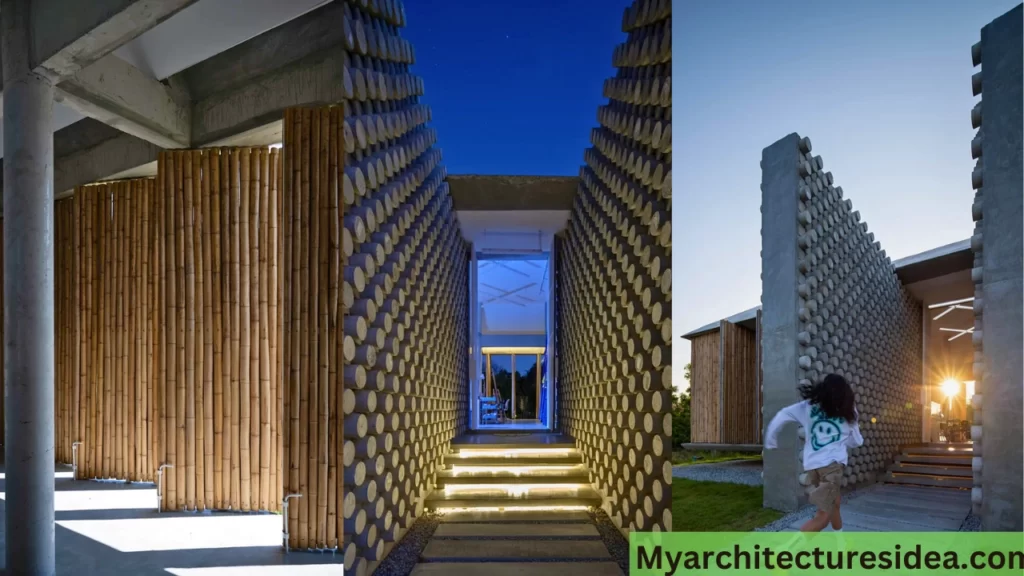 This studio is known as the highest gross provincial product province of Thailand. Rayong is generally surrounded by industrial areas where large scale construction and solid waste are unavoidable. Taking inspiration from the many typical abandoned concrete spacers in the area, 11.29Studio sought to create utility from unusable elements, specifically for the skin of the art studio.
In a simple yet creative expression, spacers are used to block a sculptural entrance to the art studio, which emerges between the bamboo façade.