The Ultimate Guide You Need to Know about Kitchen Faucets
Selecting the right kitchen faucet is crucial for the overall functionality and aesthetic appeal of your kitchen. With the vast array of options available, it can be quite overwhelming to decide which one is best suited for your needs. In this comprehensive guide, we will discuss various aspects of kitchen faucets, including the types, installation, design styles, finishes, and other essential factors to consider before making a purchase.
Types of Kitchen Faucets
There are several types of kitchen faucets to choose from, each with its own unique features and benefits. Some of the most popular types include:
Single-handle Faucets
These faucets require only one hole for installation and feature a single handle that controls both water flow and temperature. They are easy to install and operate, making them a popular choice for many homeowners. However, it's worth noting that it can be easy to accidentally turn the handle to very hot temperatures with single-handle faucets.
Double-handle Faucets
Double-handle faucets provide separate handles for hot and cold water, allowing for more precise temperature control. They can be safer in terms of avoiding accidental scalding but may require more holes for installation. When remodeling, consider the existing holes in your sink to determine if a double-handle faucet is a suitable option.
Bridge Faucets
Bridge faucets combine the classic style of double-handle faucets with a modern twist. The spout and handles are connected by a bridge, creating a sleek and stylish appearance. These faucets typically require two or three holes for installation.
Touchless Faucets
Touchless faucets, also known as sensor faucets or hands-free faucets are equipped with motion sensors that activate the water flow when your hand is detected nearby. They can help minimize water waste and reduce the spread of germs in the kitchen. Some touchless faucets also offer voice activation or mobile app control features.
Also Read: Center Table for Living Room 2023
Pot Filler Faucets
Pot filler faucets are designed to make filling large pots and pans easier. They are usually installed near the stove and feature a long, extendable arm that can reach over the cooktop. These faucets require a separate water line for installation and are ideal for avid home cooks who frequently prepare large meals.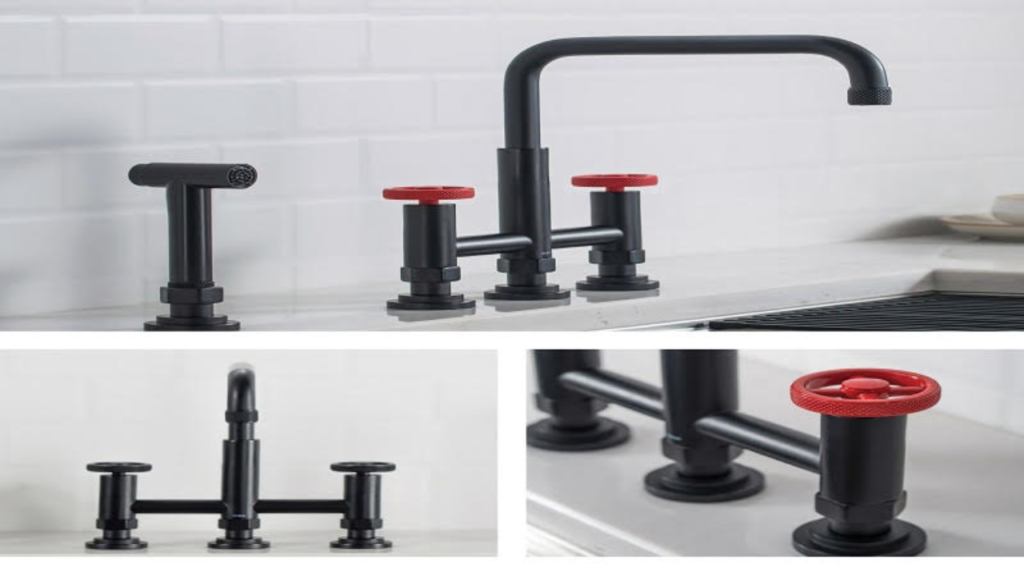 Installation Considerations
Before purchasing a kitchen faucet or deciding kitchen sink faucets to choose from, it's essential to consider the installation requirements. Some factors to keep in mind include:
Sink Configuration
The size, shape, and configuration of your sink will play a significant role in determining the type of faucet you can install. Consider the number of basins, the depth and width of each basin, and the number of holes in the deck.
Hole Count and Spacing
Different faucets require different numbers of holes for installation. For example, single-handle faucets typically require one hole, while double-handle faucets may need three or more. Additionally, consider the spacing between the holes, as this will also impact the type of faucet you can install.
Wall-mounted Faucets
Wall-mounted faucets offer a stylish solution for sinks with limited deck space or those with apron-style or undermount configurations. However, installing a wall-mounted faucet requires proper plumbing access within the wall, which can be more challenging than installing a deck-mounted faucet.
Design Styles
Kitchen faucets are available in various design styles, ranging from contemporary to traditional. Some common styles include:
Contemporary
Contemporary faucets often feature sleek lines and minimalist designs, making them an excellent choice for modern kitchens. They may also include advanced features, such as touchless operation or voice activation.
Transitional
Transitional faucets blend elements of both contemporary and traditional styles, resulting in a versatile design that works well in a variety of kitchen settings. These faucets often have clean lines and subtle ornamentation.
Classic
Classic faucets usually feature curved lines and intricate detailing, giving them a timeless appeal. They are perfect for traditional or vintage-inspired kitchens.
When selecting a faucet design, it's essential to consider the overall style of your kitchen and ensure that the faucet complements your existing fixtures and finishes.
Faucet Finishes
The finish of a kitchen faucet plays a crucial role in its aesthetic appeal and durability. Some popular finishes include:
Stainless Steel and Chrome
Stainless steel and chrome finishes are easy to clean and available in polished, brushed, or matte options. These sleek silver tones are often used in modern and contemporary kitchens and are available at various price points.
Nickel
Nickel faucets come in brushed or satin finishes and are best suited for kitchens with a warm color palette. This finish is durable when treated with a titanium topcoat, but it can show fingerprints and water spots easily.
Copper
Copper faucets add a touch of warmth and richness to any kitchen. They are durable and resistant to everyday wear and tear, making them an excellent option for busy households.
Brass
Brass and bronze faucets are available in high-gloss, satin, brushed, or antiqued finishes. Polished finishes work well in modern and retro designs, while antiqued and oil-rubbed finishes enhance traditional styles. However, these finishes can chip or scratch over time.
Faucet Valves
Faucet valves are responsible for controlling water flow and temperature. The type of valve used in a faucet can impact its performance and longevity. Some common types of faucet valves include:
Ceramic-disk Valves
Ceramic-disk valves are durable and reliable, offering a drip-free performance. These valves feature two ceramic disks that slide over each other to regulate water flow and temperature.
Cartridge-style Valves
Cartridge-style valves can be used in both single- and double-handled faucets. They feature a replaceable cartridge housing, which contains the flow mechanism.
Ball Valves
Ball valves are commonly found in single-handle faucets. They feature a rotating ball that moves across inlet holes to control water flow and temperature.
Compression Valves
Compression valves are typically found in older, double-handled faucets. They use a compression system with washers that open and close as the handles are turned.
Conclusion
This is the ultimate guide you need to know about kitchen faucets. Keep in mind that choosing the perfect kitchen faucet involves considering various factors, such as the type, installation requirements, design style, finish, and additional features. Consider contacting us if you need high-quality kitchen faucets. Keep on visiting My Architectures Idea for more info.