Choosing the Right Spot: Finding Your Dream Home in the UAE
Now you can find affordable flats for investment in Dubai by the sea. Finding the right home in the UAE can be daunting, especially if you're a newcomer. In this article, we'll give you a comprehensive guide to what to expect when searching for a home in the UAE. From understanding the local property market to knowing what to look for in a home, we've got you covered.
How to Make Your Dubai Property Purchase Successful?
Determine Your Budget
One of the most significant factors in this process is your budget. It will enable you to make an informed decision. Here are some tips for evaluating your budget:
1. Assess your income.
Start by evaluating your income, including all sources of income, including salary, bonuses, and investment returns. Check out Emirates.Estate for more information.
2. Calculate your expenses.
Make a list of all your monthly bills, groceries, and transportation. It will help you determine how much you can afford monthly mortgage payments.
3. Determine your debt-to-income ratio.
Your debt-to-income ratio is a crucial factor lenders use to evaluate mortgage affordability. Ideally, your debt-to-income ratio should be less than 43%.
4. Consider additional expenses.
Make sure to factor these expenses into your budget.
5. Shop around for the most affordable rates.
Once you have determined your budget, it's time to shop around for the cheapest mortgage rates. Be sure to compare rates from different lenders and consider working with a mortgage broker who can help you find the most affordable deal.
Remember to be realistic about your budget and avoid stretching yourself too thin.
Location Matters
When finding your dream home in the UAE, location matters. Whether you're a first-time buyer, a family with young children, or a retiree looking to downsize, there are several factors to consider when choosing the right neighbourhood.
If you enjoy socialising and being around people, you may want to search for a neighbourhood with lots of restaurants, cafes and bars. In addition, you may want to look for parks and other outdoor spaces where you can meet new people and make friends. On the other hand, if you value peace, look for a neighbourhood away from the city's hustle and bustle. This neighbourhood should have plenty of green space and opportunities to enjoy nature.
Another factor to consider is your commute to work or school. The UAE is a busy and fast-paced place, so it's wise to choose a neighbourhood easily accessible from where you work or study. Look for areas well-connected by public transport, or have convenient road links to other parts of the city.
Safety and security should also be a top priority when choosing a neighbourhood. Make sure you research crime statistics and talk to locals about safety concerns.
Finally, consider the cost of living in the neighbourhood you're interested in. Some areas of the UAE can be expensive, so it's imperative to be realistic about your budget and what you can afford.
Choosing the right neighbourhood in the UAE can be daunting.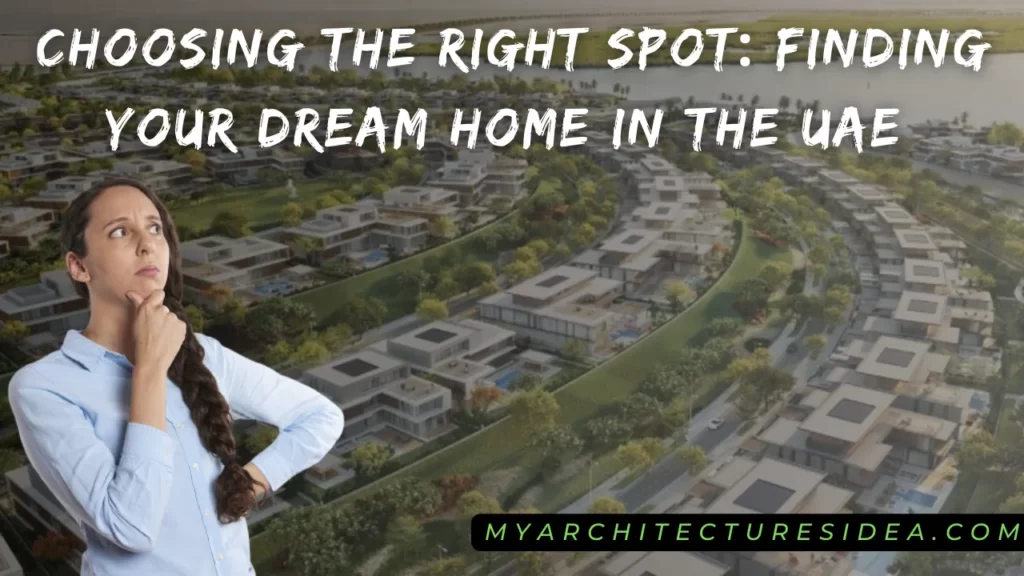 How to Profit from Real Estate in the Uae?
Size and Space
Each property has its unique advantages and disadvantages.
For those seeking more space and privacy, villas are popular. Villas can be found in gated communities and standalone neighbourhoods, offering different lifestyles to suit your preferences.
Apartments range from small studios to expansive penthouses, making them versatile choices for individuals and families alike. While apartments may not offer the same privacy as villas, they often have amenities such as gyms, swimming pools, and 24-hour security.
These properties typically offer more space than an apartment while maintaining a sense of community and shared amenities. Townhouses are often found in residential complexes or gated communities, while duplexes can be standalone or part of a development.
No matter what type of property you choose, it's worthwhile to consider your specific needs and preferences.
Amenities and Facilities
The property's amenities and facilities can make all the difference in your daily life.
One of the most sought-after amenities is a pool. Some properties even come with infinity pools that offer stunning views of the city skyline or the pristine coastline.
Many properties have state-of-the-art facilities with top-of-the-line equipment and personal trainers available. You'll never miss a workout again.
If you're a social butterfly, look for properties with communal spaces like rooftop terraces, BBQ areas, or movie theatres.
Finally, don't forget practical amenities that make your daily routine easier. Look for properties with 24-hour security, on-site maintenance, and ample parking. These conveniences may not be as flashy as a pool or gym, but they can make a huge difference in your quality of life.
Take the time to explore different properties and see which ones fit your needs and lifestyle.
Legal Matters
Buying a property in the UAE can be exciting but also daunting. One of the most pertinent things to remember is the legal aspect of it.
First and foremost, ensure that the property you're interested in buying is legally available. It means checking that the property has no outstanding debts, litigation or disputes.
Once you've found a property you're interested in, the next step is to sign a sales and purchase agreement (SPA). It will outline the sale terms and conditions, such as the purchase price, payment schedule, and completion date.
After signing the SPA, you'll need to transfer property ownership. It involves registering the property with the Dubai Land Department (DLD) and paying the necessary fees.
There are fees and taxes associated with purchasing a property in the UAE. These include the registration fee, transfer fee, and possibly VAT. It's imperative to budget for these costs when planning your purchase.
Don't hesitate to seek legal advice if you have questions or concerns, and always do your due diligence before signing any agreements.
Conclusion
Consider your long-term goals. Are you looking for a property to live in for the foreseeable future, or are you open to selling or renting it out?
Lastly, don't be afraid to seek professional help.
In conclusion, finding your dream home in the UAE requires careful consideration of your budget, location, long-term goals, and professional help. By keeping these key takeaways in mind, you'll be one step closer to finding the suitable property that meets all your needs and expectations. Check out the website for more information. Keep visiting My Architecture's Idea for more updates.