Unleash Your Creativity: 10 DIY Outdoor Curtain Ideas for a Stylish Backyard Makeover
Are you looking to transform your backyard into a stylish oasis? Do you want to add a touch of elegance and privacy to your outdoor space? Look no further than DIY outdoor curtains. These versatile and customizable curtains not only provide shade and privacy but also enhance the overall aesthetic of your backyard. In this article, we will explore ten creative DIY outdoor curtain ideas that will breathe new life into your outdoor area.
Why Outdoor Curtains Are A Great Addition To Your Backyard
Following are three reasons that show why curtains are the best addition to your backyard.
Enhancing Privacy
Privacy is essential when it comes to enjoying your backyard oasis. Outdoor curtains act as a barrier, shielding your space from prying eyes and creating a secluded retreat. Whether you're hosting a backyard barbecue or simply relaxing with a book, outdoor curtains provide a sense of privacy, allowing you to enjoy your outdoor space without unwanted disturbances.
Creating Shade And Blocking Sunlight
The scorching sun can make spending time outdoors unbearable, especially during the hot summer months. Outdoor curtains offer an effective solution by creating shade and blocking harmful UV rays. By strategically placing curtains around your seating or dining area, you can enjoy the outdoors while staying cool and protected from the sun's intense rays.
Adding A Decorative Element
In addition to their practical benefits, outdoor curtains also add a decorative touch to your backyard. With a wide range of colors, patterns, and styles to choose from, you can personalize your outdoor space and create a unique ambiance. Whether you prefer a casual bohemian vibe or a sleek and modern look, outdoor curtains provide endless possibilities for customization.
DIY Outdoor Curtain Ideas
Following are the best DIY Outdoor Curtain Ideas that you must try…
1. Hanging Curtains With Tension Rods
Tension rods are a versatile and easy-to-install solution for hanging outdoor curtains. Simply choose your desired curtain panels and thread them onto tension rods. Place the rods between walls or sturdy posts to create a cozy nook or define separate areas in your backyard.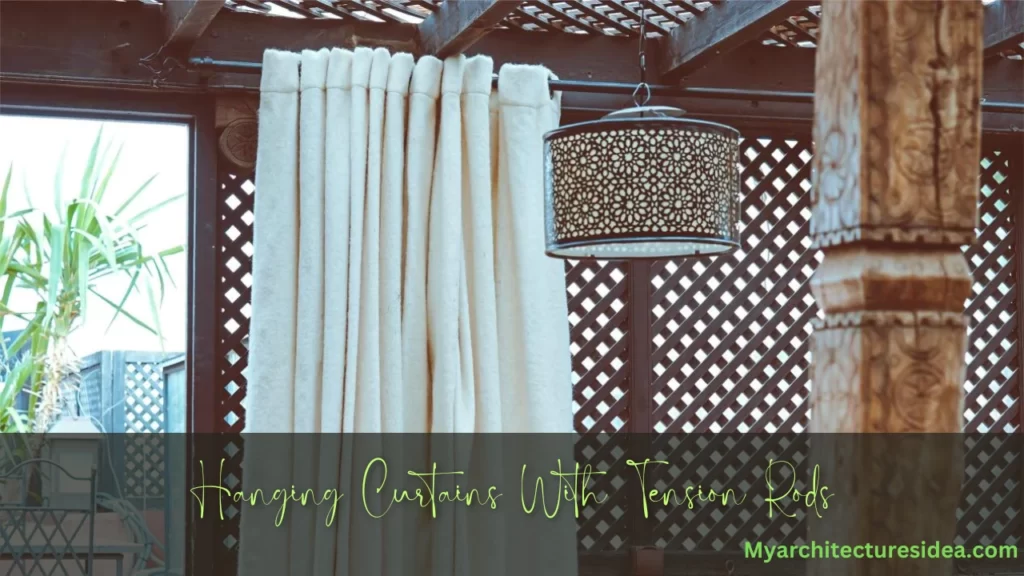 2. Using Hooks And Drapery Clips
If you have a pergola or overhead structure in your backyard, using hooks and drapery clips can be a simple and effective way to hang outdoor curtains. Attach hooks to the structure and use drapery clips to secure the curtains. This method allows for easy installation and removal, giving you the flexibility to adjust the curtains as needed.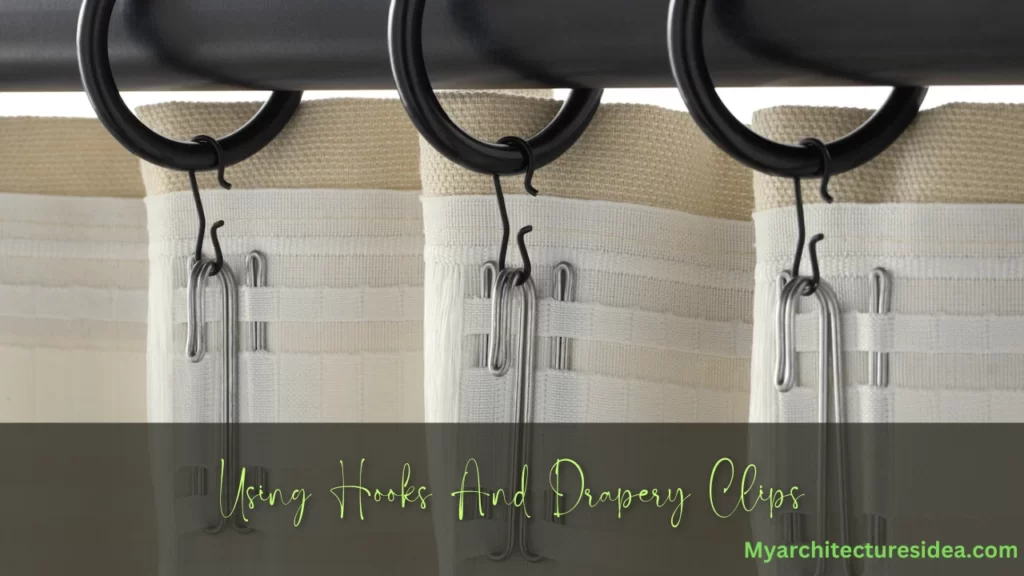 3. Installing A Pergola Or Trellis For Curtain Support
For a more permanent and visually appealing solution, consider installing a pergola or trellis in your backyard. These structures not only provide support for outdoor curtains but also add an architectural element to your outdoor space. Attach curtain rods or wires to the pergola or trellis and hang your curtains for a sophisticated and elegant look.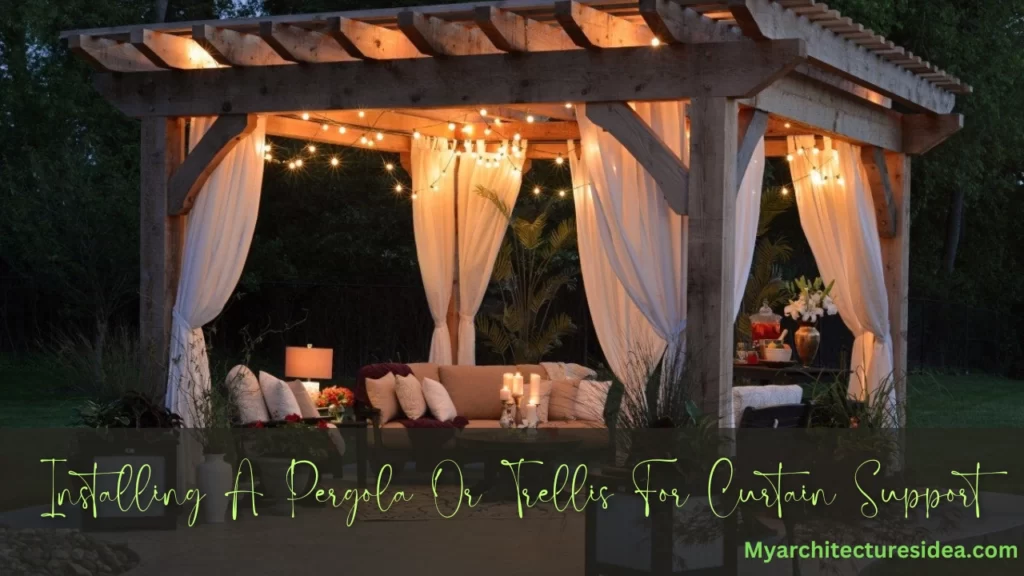 4. Creating A Cozy Corner With Curtains
If you have a corner in your backyard that you'd like to transform into a cozy retreat, outdoor curtains can work wonders. Install curtain rods or wires on two adjacent sides of the corner and hang curtains to enclose the space. Add some comfortable seating, soft lighting, and decorative elements to create a tranquil oasis for relaxation.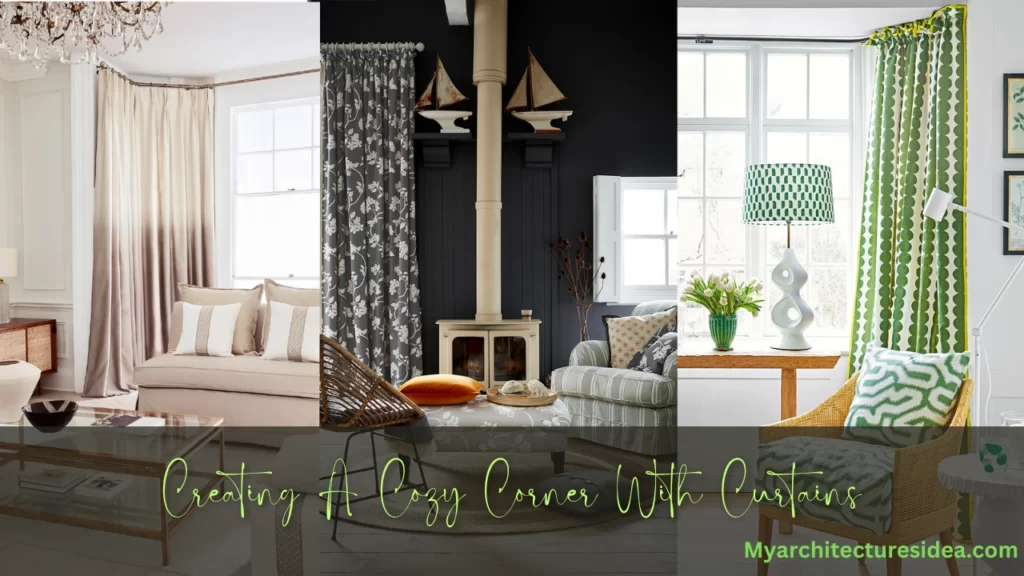 5. Incorporating Sheer Curtains For An Elegant Touch
Sheer curtains lend a touch of elegance and sophistication to any outdoor space. Hang sheer curtains using tension rods or hooks, allowing them to gently sway in the breeze. The lightweight fabric filters sunlight, creating a soft and romantic atmosphere.
6. Adding A Bohemian Vibe With Macramé Curtains
If you're looking to infuse your backyard with a bohemian vibe, macramé curtains are an excellent choice. Macramé, a craft that involves knotting cords to create intricate patterns, adds a unique and artistic element to your outdoor space. Hang macramé curtains using hooks or tension rods, and enjoy the boho charm they bring to your backyard.
7. Using Drop Cloths For A Budget-Friendly Option
For a cost-effective and rustic look, repurpose canvas drop cloths as outdoor curtains. Drop cloths are affordable, readily available at hardware stores, and can be easily customized to fit your desired length. Attach grommets to the corners of the drop cloths and hang them with hooks or tension rods.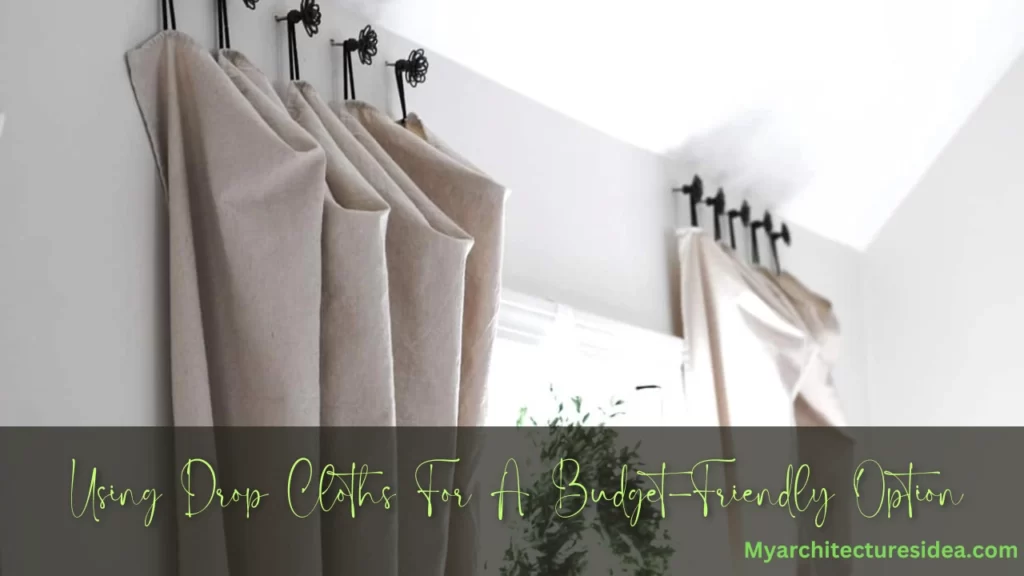 8. Repurposing Old Bed Sheets Or Tablecloths
Give your old bed sheets or tablecloths a new lease on life by transforming them into outdoor curtains. This budget-friendly option allows you to personalize your outdoor space while reducing waste. Cut the sheets or tablecloths to your desired size, attach grommets or tabs to the top, and hang them using hooks or tension rods.
9. Adding A Splash Of Color With Painted Curtains
For a pop of color and creativity, consider painting your outdoor curtains. Choose a durable outdoor fabric and unleash your artistic side by painting patterns, designs, or even a mural. Let your imagination run wild, and create one-of-a-kind curtains that reflect your personal style.
10. Creating A Tropical Oasis With Bamboo Curtains
To create a tropical paradise in your backyard, opt for bamboo curtains. Bamboo curtains not only provide shade and privacy but also add a natural and exotic touch to your outdoor space. Hang bamboo curtains using hooks or tension rods, and transport yourself to a serene tropical getaway.
FAQs
1. How can I make my outdoor curtains last longer?
To make your outdoor curtains last longer, choose high-quality, weather-resistant fabrics and properly maintain them by cleaning, storing, and repairing any minor damages.
2. Can I use regular indoor curtains for the outdoors?
Regular indoor curtains are not designed to withstand the outdoor elements. It's advisable to choose fabrics specifically made for outdoor use, as they are more durable and resistant to fading, mold, and water damage.
3. What is the average cost of DIY outdoor curtains?
The cost of DIY outdoor curtains can vary depending on the fabric, size, and customization. However, DIY options are generally more cost-effective compared to purchasing pre-made outdoor curtains.
4. Are outdoor curtains suitable for all climates?
Outdoor curtains are suitable for most climates. However, it's important to choose weather-resistant fabrics and consider the specific weather conditions in your area. In regions with extreme weather, it may be necessary to remove and store the curtains during harsh seasons.
5. Can I use outdoor curtains for privacy on my balcony?
Yes, outdoor curtains can be a great solution for creating privacy on balconies. Install curtain rods or tension rods and hang curtains to enclose the space and create a private retreat. Ensure the curtains are secured properly to withstand wind and other weather conditions.
Conclusion
Unleashing your creativity and adding DIY outdoor patio curtains to your backyard is an excellent way to elevate your outdoor space. Whether you're seeking privacy, shade, or a decorative element, outdoor curtains offer a versatile solution. From hanging curtains with tension rods to creating a tropical oasis with bamboo curtains, the possibilities are endless. Remember to choose weather-resistant fabrics, maintain and care for your curtains, and enjoy the transformation of your backyard into a stylish oasis. Visiting My Architecture's Idea for more ideas.